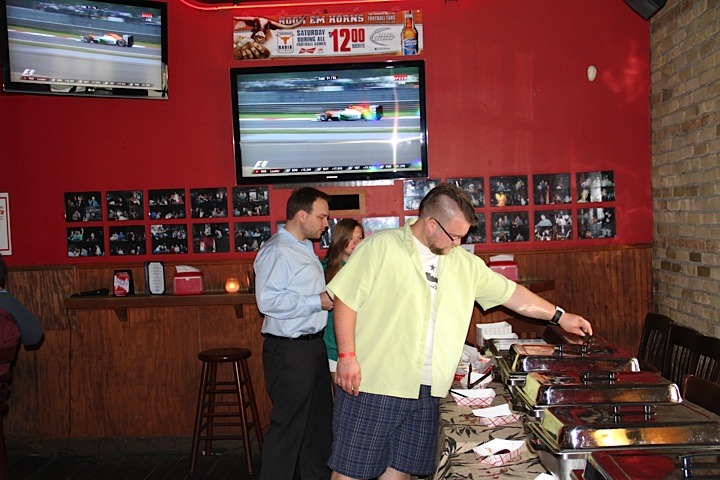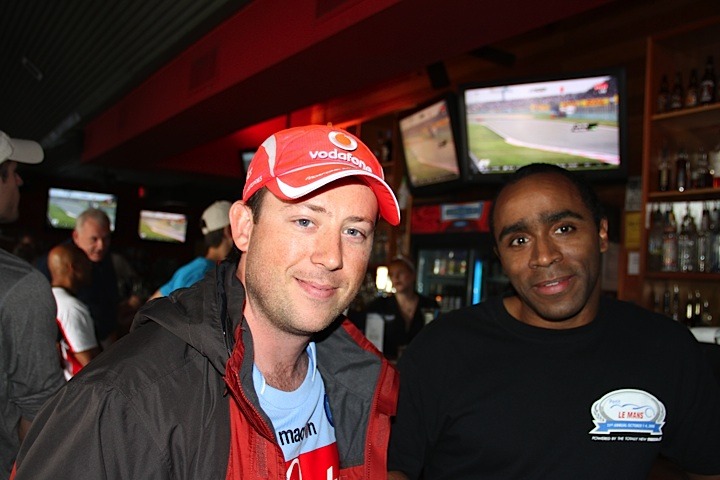 // Downtown Watch Party
Our eleventh watch party in downtown Austin was hosted by Lavaca Street Bar for the Chinese Grand Prix. As with all of our events, there's always a very strong mix of new visitors, averaging around thirty percent over our events this past year. Sunday's event was an exception, with nearly fifty percent of the 75+ attendance visiting the downtown watch party for the first time ever.
This great balance of old and new fans is making a great conversational environment, allowing those of all knowledge levels to participate and feel welcome. Our more seasoned fans helped to welcome newcomers to the sport by offering advice and sharing their experiences with each other. Most conversations in the room, if not about the exciting race itself, usually focus on individuals sharing their first race experience or excitement for the future GP in Austin.
With a great crowd in attendance, the energy was right for the stunningly entertaining Chinese GP. We all helped congratulate Mercedes GP driver Nico Rosberg on his first win in the sport and Mercedes' first win in 57 years as a factory team. The race had all of the elements to make for great viewing, so good company to watch with on a Sunday afternoon make it all the more enjoyable.
// Lavaca Street Bar
Our guests raved about the Chinese-themed food provided - fresh egg rolls, savory pots tickers, teriyaki flavored wings, ribs that rival the best local BBQ joints and a fresh noodle & veggie mix. It's no surprise everyone enjoyed the food; Lavaca Street's menu is being redeveloped by Casey Fannin, an amazing chef and close friend of Tyson Cole of Uchi and Uchiko restaurants. If you didn't know before enjoying the fare, it was evident after as the food was delicious!
At the end of the race we raffled off a copy of the SENNA movie DVD and a movie poster to continue to spread the word about this amazing film. If you haven't seen it, check out the trailer here and rent it on Netflix or buy a copy here. Congratulations to Kärt Klein; enjoy the movie - again! (She has seen it before and is a big fan!)
A very special thanks goes out to DNA Events for their production expertise and support to help make this event possible. In addition, a special thanks to Premiere Party Central for their donations of the chinese-themed table decor, and thanks to Paul Walhus of Spring.net for stepping up as our photographer at the last minute.
// What's Next?
We're already back in planning mode for our next watch party. We've decided to focus on a hand-picked number of watch parties this season in order to create truly engaging fan experiences. But you won't have to wait long to see your F1 friends and meet new Austinites!
Tomorrow, Thursday, April 19, we're hosting a joint happy hour with EuroCircle - "a free informal community for expats and Europeans or Europhiles." Come celebrate the diversity of Austin at this international networking event and learn about Formula 1™ coming to Austin. Join us back at Icenhauer's tomorrow night from 6:00PM - 10:00PM for networking and mingling over cocktails and light hors d'oeuvres. Icenhauer's is located on the famed Rainey Street and you will feel truly welcome in this renovated 1895 home with an expansive patio and cool drinks!
What: Happy Hour with EuroCircle and The Austin Grand Prix
When: Thursday, April 19, 6:00PM - 10:00PM
Why:
Let's celebrate the diverse crowd that Austin welcomes and embraces as well as the fantastic arrival of F1
™
in Austin!
Hosts: Kaisa Kokkonen (EuroCircle), Allison Berguin (France) and Kerri Olsen (The Austin Grand Prix)
Cost: Free
Parking: On surrounding streets and a pay lot where Rainey Street intersects with Driskill Street