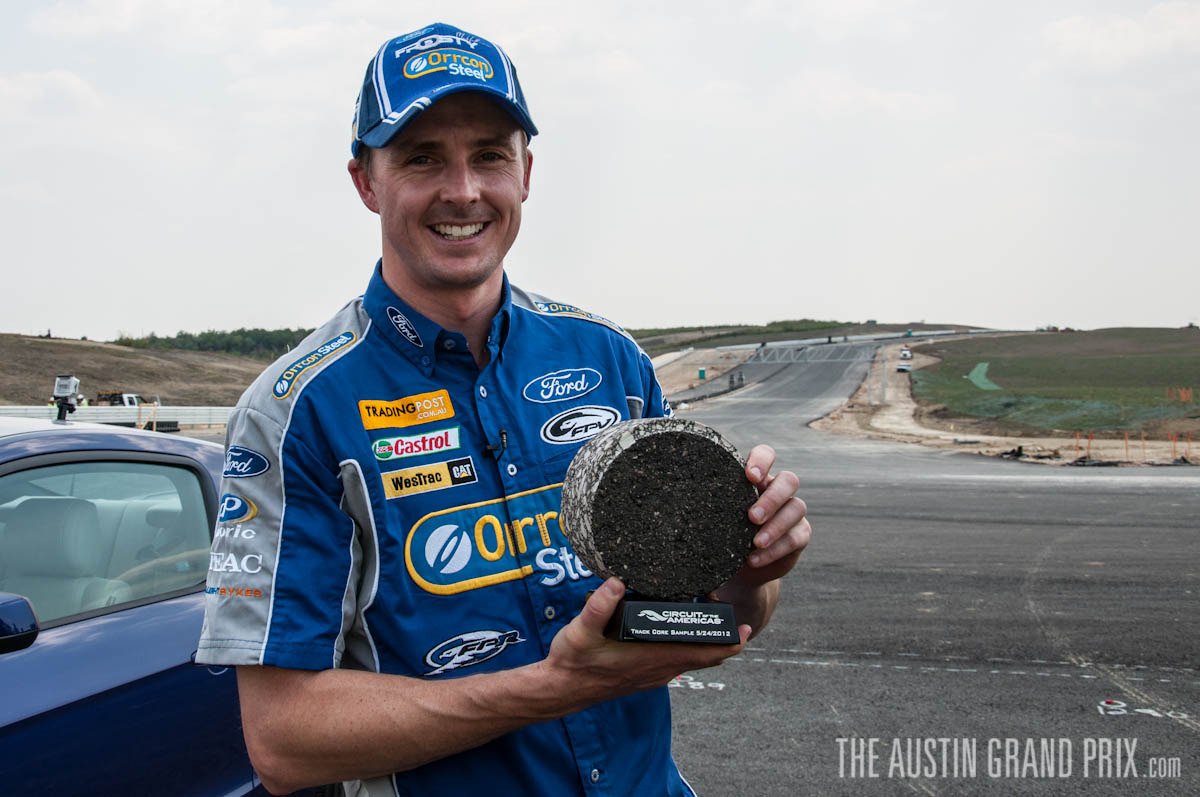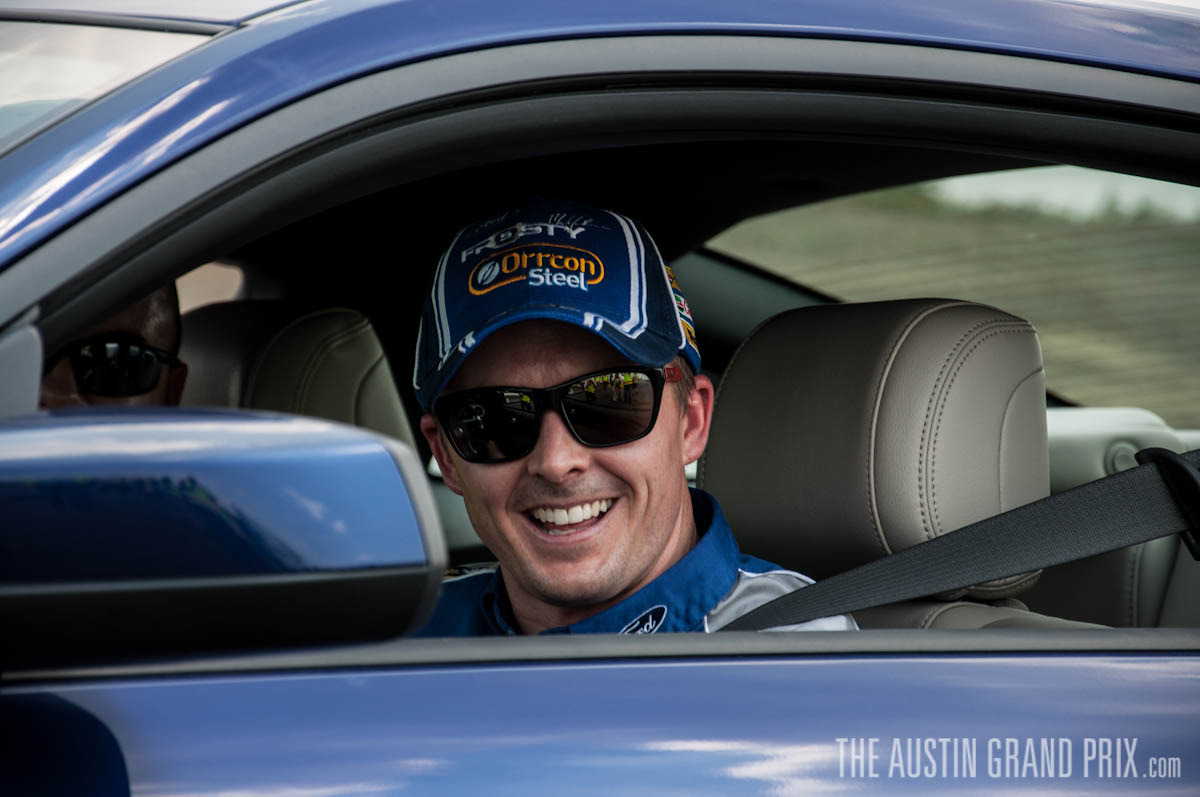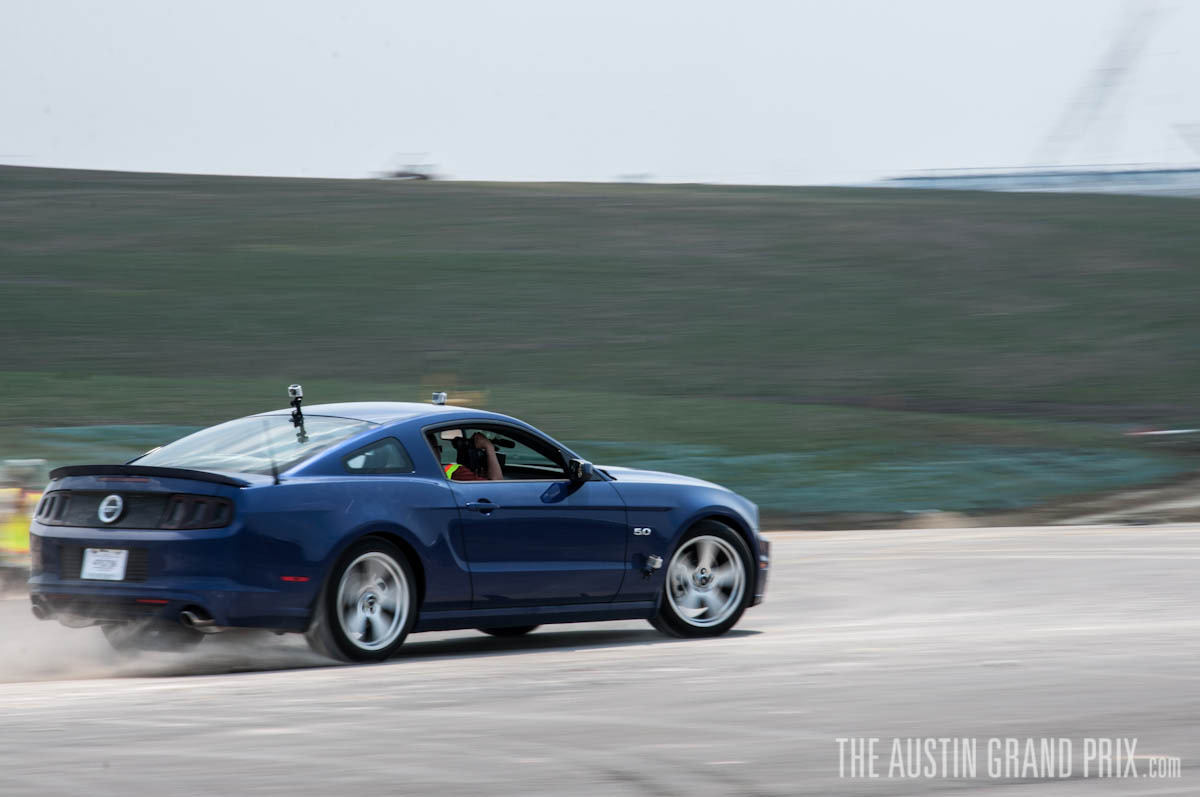 Circuit of The Americas is proving their open arms mentality; in August 2011 we saw David Coulthard pilot the Red Bull Racing Showcar on a gravel track, in April of this year Alexis DeJoria took a Toyota Tundra on the pre-asphalt terrain. Earlier this month the newly-announced COTA Ambassador Mario Andretti showed us what a Cadillac Escalade was capable of on the newly-laid asphalt. Today, we got to see what a good 'ol American muscle car could stir up as COTA welcomed the fourth driver to test out the track, Australian V8 Supercars Driver Mark Winterbottom.
V8 Supercars is an Australian-based race series; one of the world's largest and best known touring car categories because it is recognized internationally as a leader in motorsport and entertainment. Mark is in the US as part of a media tour promoting his involvement with the Disney-PIXAR movie Cars 2, whereby he "plays" the character "Frosty" in the Australian version of the film. Before the end of the month, Mark will fly back to California for the opening of "Cars Land" at Disneyland.
While in Austin, he did a great job at hitting up many popular and uniquely Austin attractions - getting a pair of cowboy boots, enjoying great B-B-Q at Stubb's, visiting Jesse James at his Austin Speed Shop and enjoying an antelope burger at Elroy's Wild Bubba's Wild Game Grill (right next to the circuit). Mark had this to say about Austin:
Austin has a really cool vibe. There's lots to see and do, and I think international visitors will find the city very sophisticated, yet laid back and welcoming. It's a great destination for motorsports enthusiasts and their families because there's something for everyone in terms of good food, great shopping, exceptional music and entertainment, loads of parks and recreational activities, and, of course, a purpose-built Grand Prix circuit that will host some of the best auto racing in the world!
But what about the circuit? He drove a Ford Mustang GT through the back portion of the racecourse, from Turns 5-12 and also had the opportunity to preview the rest of it. Like many, he was amazed at the 130' elevation spike going up Turn 1, but he was equally impressed with the changes in height throughout the circuit, adding the numerous turns would make for great driving. He added:
The circuit's topography, including the dramatic changes in elevation, will make for some really fun racing and a great show for fans. While I didn't get to drive the full circuit, the sequence of turns I did sample were fantastic, and I can't wait to come back and take a lap around the finished racecourse. Circuit of The Americas will be a welcome addition to our future V8 Supercar line-up!
Check it out for yourself in this video clip:
Mark Winterbottom Drives COTA from The Austin Grand Prix on Vimeo.
Now the question remains, when will we see the V8SC here in Austin? Stay tuned for the 2013 race calendar details to be announced.
// V8 Supercars Facts
The V8 Supercar Championship ("V8 Supercars" or "V8SC") is an Australian-based touring car championship
15 annual events across Australia, New Zealand and the Middle East, and they raced at the 2012 Formula 1 Australian Grand Prix as a support series during the F1 race weekend
The world's leading Touring Car Championship recognized by the Fédération Internationale de l'Automobile ("FIA")
All V8 Supercars run on 85% CSR Ethanol, a renewable fuel made from the bi-product of the sugar refining process
2011 race attendance: 1,750,000
2011 TV race viewership: 17,500,000
130 countries telecast V8 Supercars live (as live or on delay, depending on time zone and programming)
Estimated annual sponsorship portfolio in excess of $150,000,000