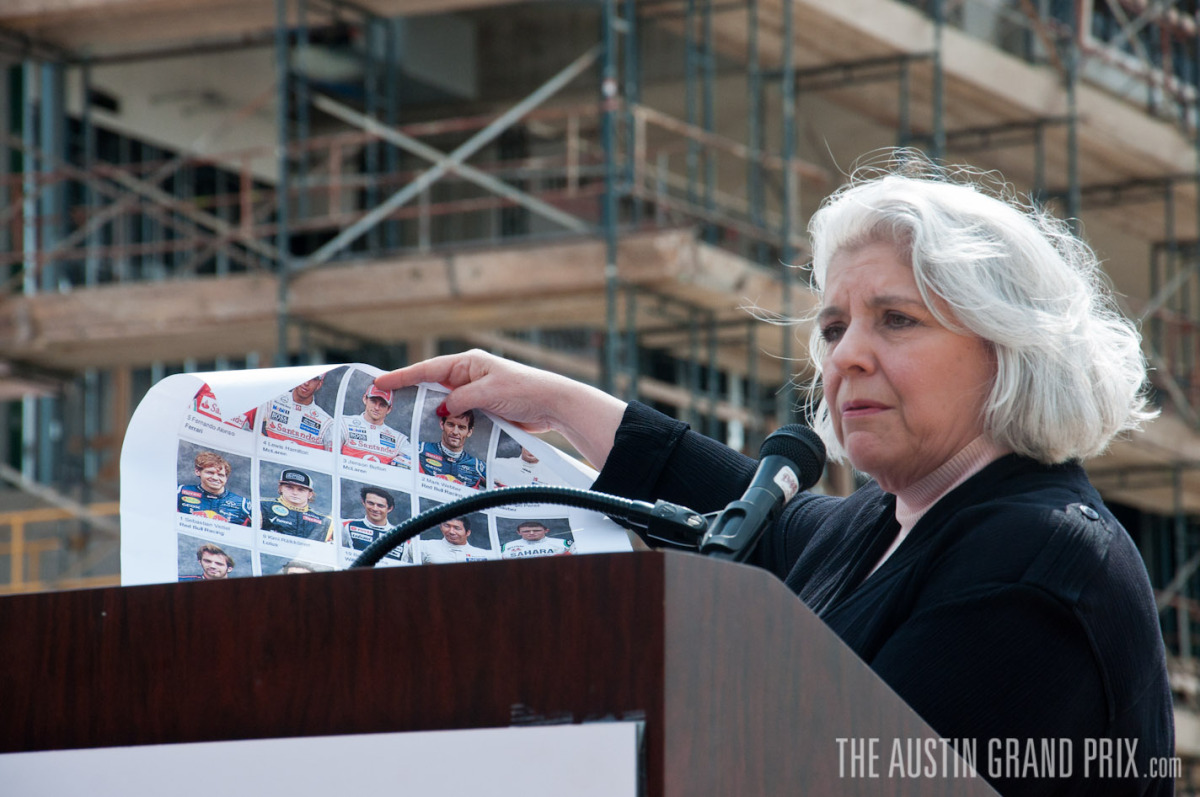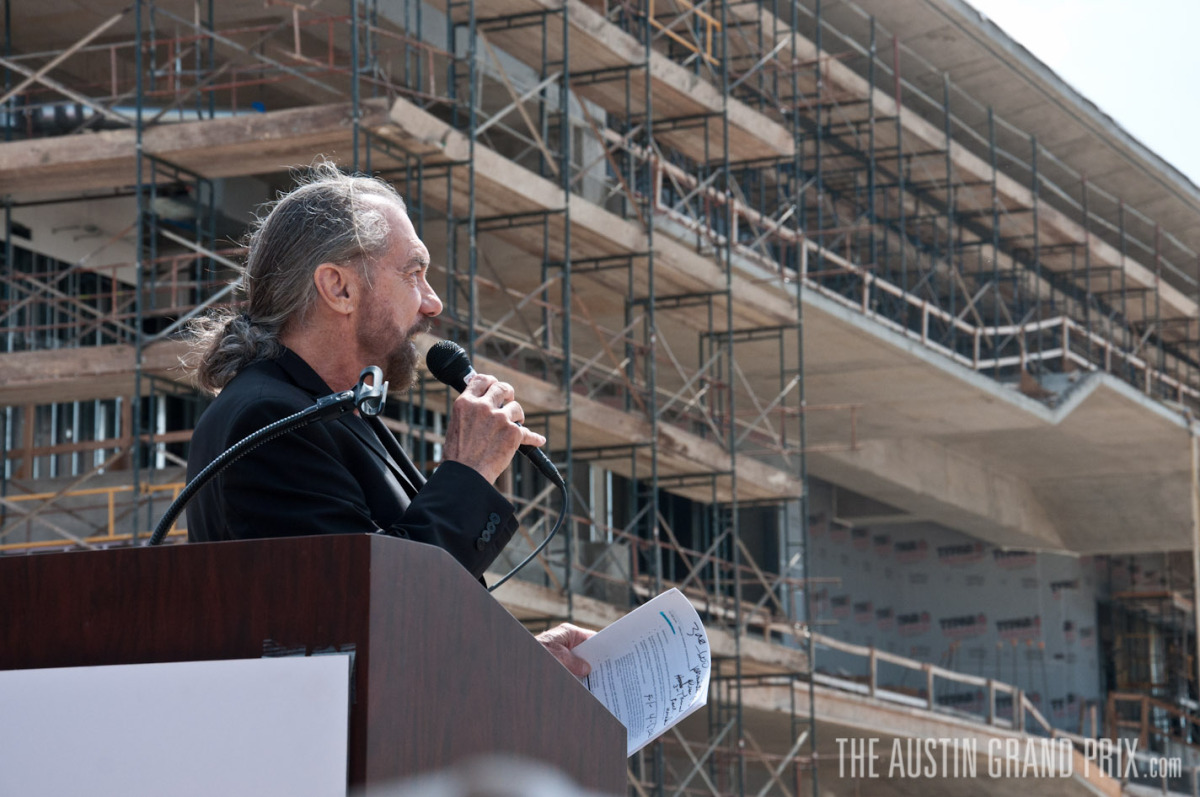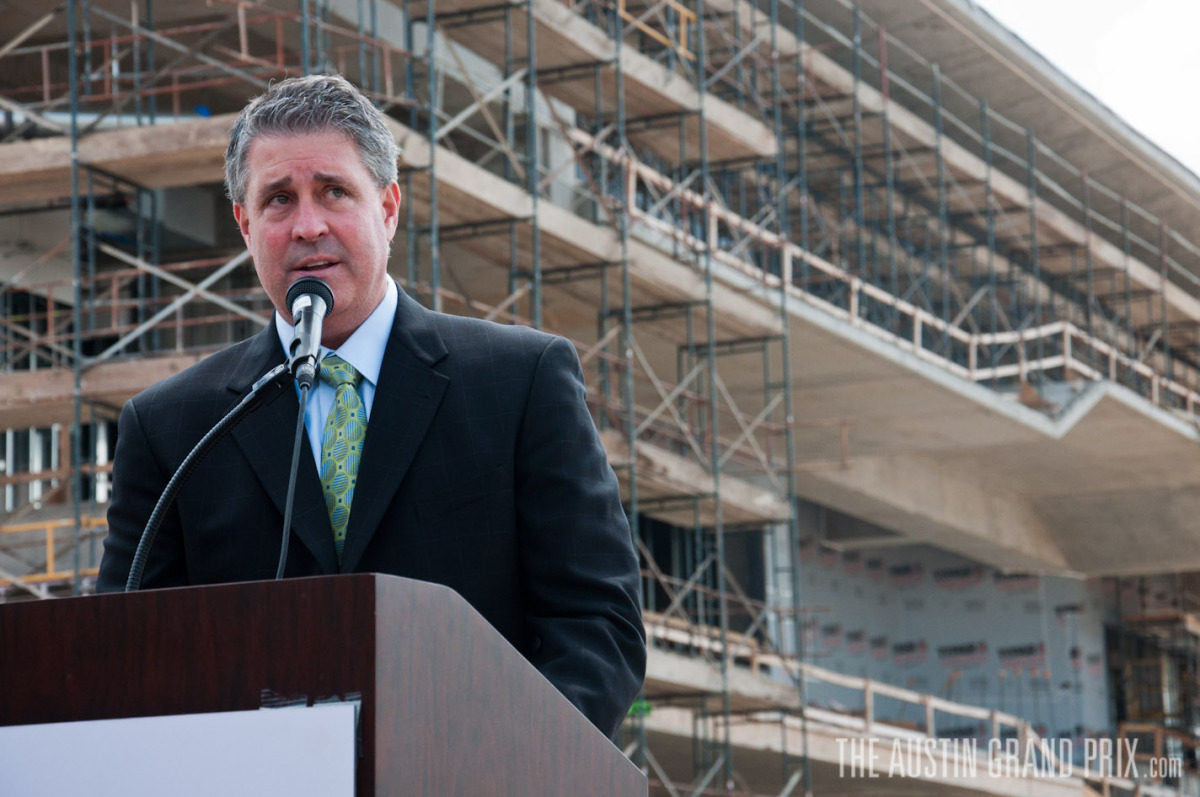 // Ceremony
Earlier today, hundreds of hard-working Austin Commercial workers, contracting businesses and team members were recognized for their hard work at a "Topping Out" ceremony at the Circuit of The Americas. A tradition around the world, Topping Out ceremonies celebrate the completion of structural work on a project as an honorary evergreen tree is placed alongside state and national flags atop the structure; this symbolizes growth and is said to bring ongoing luck to a construction project.
Supporters gathered at the southeast point of the three-leval, 270,000 square foot pit building where the symbolic tree was hoisted after a ceremony. Guests shared in the excitement as Circuit investors Red McCombs and Bobby Epstein presented State Senator Judith Zaffirini, Travis County Commissioner Margaret Gomez, Austin Commercial SVP Bill McAdoo and newly announced Circuit investor and local entrepreneur John Paul DeJoria. They each shared what the premium sports, entertainment and business development facility in southeast Travis County meant to them before placing tokens of today into a time capsule, to be buried and then opened in 25 years.
Red McCombs added a newly-minted silver dollar after joking about holding onto it for its current value. Bobby Epstein included a packet of Texas wild flowers; instead of a previously planned neighborhood in this locale, Circuit of The Americas will work to showcase and preserve the natural beauty of Texas Hill County. State Senator Judith Zaffirini delivered an inspiring speech before rolling up a 2012 Formula 1 driver lineup poster to the time capsule. She highlighted F1 driver Sergio Perez's excitement for Circuit of The Americas as his home circuit and emulated what many Americans already feel, "Mi Casa, Su Casa," in order to open our doors to our international neighbors and friends. Bill McAdoo added a current COTA site plan while John Paul DeJoria dropped a CD of Austin music into the box, signifying our recognition as The Live Music Capitol of The World.
Circuit president Steve Sexton also recognized the hard work and effort of all:
This project has required the continuous efforts from many different groups and individuals throughout the area. This ceremony marks a significant milestone in the construction. It was important for us to celebrate this achievement with the many people that have helped make it possible.
Each of the speakers took time to congratulate the truly stellar team of workers who've worked hard to make this project a reality. In just one year, the project has transformed from little more than a bare piece of land into an amazing display of hard work and dedication from all parties involved.
Following the ceremony, everyone was invited into the neighboring media center to have some good 'ole Salt Lick BBQ. Arguably the best in the state, if not country, Salt Lick proudly served the hundreds of workers and guests their famous menu, complete with ribs, brisket and some blueberry cobbler - Yum!
// Construction Milestones
Here is a list of the latest accomplishments that we are celebrating:
Support beams installed in the highest point of the pit building, which is completely structurally erected;
One third of the pit building's roof has been installed;
More than half of the requisite structural steel has been installed in the permanent grandstand building;
The road base for the racetrack between Turn 19 (T19) and Turn 20 (T20) has been installed;
Exterior stone work on the media, technology and conference center is underway;
Access roads through the paddock area (by the pit building) are taking shape;
Dirt backfill around the Tunnel 1 area has been completed with crews shaping the racetrack to cross over the Tunnel 1 structure;
Topsoil if going into sections of the infield with grass planting to happen next in those areas; and
Amphitheater is taking shape with crews finishing the earth moving to that area.
By the numbers:
3.5 million cubic yards of dirt have been moved on the job to date, with 780,000 cubic yards of dirt brought onto the site;
711.5 tons of steel for the permanent grandstand have been erected
78,000 yards of concrete have been poured; and
550 workers are currently onsite and involved in the construction process.
// Looking Back, Yet Ahead
It's almost hard to believe this is what Circuit of The Americas looked like one short year ago:
On Location at the Circuit Of The Americas from The Austin Grand Prix on Vimeo.
// See You Sunday!
Don't forget to join us on Sunday for our Downtown Watch Party for the Formula 1 UBS Chinese Grand Prix! Click here for further details.