I've written before about my thinking on why Formula One has trouble capturing much of an audience in the United States. Sunday's race is a prime example of this reasoning in motion.

Spoiler Alert: Jenson Button won, Alonso in second, Darth Vettel in third. He won the 2011 championship anyway. Surprised?
Not many people watch sports on television to observe a serene, chaos free event.
Chaos
is the real key here. Aside from winter olympics devotees (long explanation... just go with it), watching a competitive event and hoping for perfection is really quite rare. We are waiting for that moment when it all comes unglued. That chaos element that is the source of entertainment. Somebody is going to screw the pooch, then watch it
get awesome
.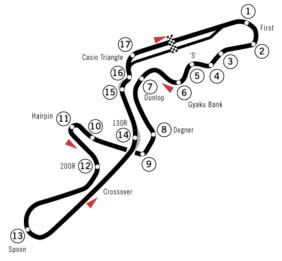 That was not the case at
Suzuka
. While Japan's F1 circuit is a tribute to the modern era that saw it brought into the world - it is technical, fast, absolutely unforgiving and therefore biblically dangerous, reflecting the ethos of grand prix racing of the early '60s - it's also a temple of serenity and precision. It rewards the clean drive. Clean driving isn't always the most exciting driving, unless you're the kind of person who enjoys a tense chess match (full disclaimer, that is fully accurate concerning most of the F1 fans I know). It's also one of my top three favorite circuits, sharing space with Monza and Spa, not coincidentally also "old" circuits designed to challenge the driver and car, and not allow for maximum viewership of corporate sponsors' logos (looking at you, Tilke and your work with Japan's other classic circuit,
Fuji
). Another diatribe, another day...
So the race, then. Aside from a move of questionable tactics and sportsmanship by Vettel off the line (stewards say "Meh"), forcing Button into the weeds and setting up Hamilton for a slick but temporary, thanks to a puncture on lap eight, vault into second, it was more an exercise in precision than fury. Button, ever the tactician, racked up several fast laps while beating the drum of his trademarked Save the Tires campaign, and in combination with a
plaid speed
pit stop, dropped onto the circuit in first, and eventually eke out the win with Alonso and Vettel charging hard in second and third. With 10 more laps we might have seen an epic battle for the win, although Vettel's overlords reportedly ordered him to cool his heels and secure the single point necessary to clinch the championship. I'd still pay good money to watch Alonso and Button, two drivers diametrically opposed in terms of style, duke it out, corner by corner.
But Vettel. Geez Louise. Sebastian Vettel is on the narrow path to legendary status - if he maintains this level
of focus for a couple more seasons. Let's look at a
few numbers
, shall we? He presently is seventh for all-time pole positions with 27, and fifth for percentage of races starting form pole, at 35%. Names ahead of him include Fangio, Ascari, Clark, Senna and Schumacher. That's rare air indeed. If he lands two more poles this season he will be first on the list for the single season total. He already holds several of youngest driver records, including polesitter, fastest lap in a race, race winner, podium finish, etc. With two more top-three finishes, he'll hold the record for total number of podium finishes in a season. Now consider he's a 24-year old who first turned a lap in a grand prix in 2007. I refuse to attribute (all of) his success to Adrian Newey and the Red Bull Machine. I'm sure Lewis or Jenson or Fernando would be winning races with the same car and the same crew, but I just don't think they would be as dominant. Vettel is on another plane.
So where was Lewis Hamilton, through all of this? My two favorite corners in Formula One - Eau Rouge and 130R. Any race at Spa and Suzuka will feature ample on-board footage from these corners, and for good reason. They'd scare the stripes off a skunk. Watching an F1 car and driver,
jinba ittai
, dust the apex at either is as far as I'm concerned the essence of racing. It's guts, technique, skill and intuition that separates aces from mortals. Suzuka's 130R is not the ideal place to make a move. When it happens and is successful,
it's legendary
. When it goes wrong... and once again we see
Lewis tangling with Massa
, one of the central storylines of the season, and certainly of the 2008 champ's (and almost-champ's) 2011 season. My advice to Lewis -
Tibet
is nice this time of year. You're the most intuitive driver in the sport... get it together and let's see you laser in on the title next year, like we all know you can. Deal?
And that's the season. With four races to go. The fight for runner-up will be brutal and quite probably more entertaining than the title hunt. Ostensibly it's down to Button with 210 points and and Alonso with 202, both on form and both out to prove... well, that they're almost as good as
Lil' Sebastian
this year. Mark Webber, suffering from a bit of the end-of-season doldrums trails in a somewhat distant fourth with 194 points, but certainly not out of contention. Hamilton will need to experience true epiphany to rustle up any sort of challenge. My money is on Button.
Next week - Korea.