5 Wheel-change Pit Stop by the Vodafone McLaren Mercedes Team - Lewis Hamilton at the 2012 Indian Grand Prix
Indian Grand Prix 2012 will go down in the records as "the race in which Vettel continues his path of complete domination in the closing races of the season." Coming off of a fantastic qualifying, Vettel lead from lights to flag, replicating his win in 2011. It's a tell-tale sign on where the teams are at when we look at the grid positions at the start of the race where Red Bull had front row locked, then McLaren, then Ferrari. Clearly Red Bull has continued to fine tune their race cars, also called the "Adrian Newey car" while other teams are merely catching up. It's hard to comprehend why McLaren and Ferrari with hefty financial backing have not been able to make their race cars more competitive. Who are the weakest links in these teams that's ruining the chances for the drivers and for the teams? Is it strategy (both in qualifying and in pit stop calls) or is it the technical challenges on the car itself?
While Red Bull is the front runner, it is unusual to see that Webber was not able to catch up to Vettel's pace through most of the Indian GP. Webber mentioned that he lost KERS "around about lap 19, 20. Maybe a bit earlier. It was on and off and then completely off and then off. It was a moving target really." That speaks to reliability issues for Webber's car that for some reason Vettel's car hasn't experienced or to the extent that Webber encountered. Is Webber once again the Number 2 driver on Red Bull?
The start of the race is always drama-filled. It is no different for the Indian GP. At the start of the race, Vettel got a clean getaway while Webber attempted to pass Vettel but couldn't. We also saw good actions between Webber, Hamilton and Button, only to be wildly surprised by the sudden surge from Alonso, who flew past both McLaren in a flash. What a thrill to watch! Then Button came back through and got ahead of Alonso. Before you can say Switcheroo, Alonso overtook Button at Lap 4 and never looked back, that's followed shortly by Hamilton passing Button in Lap 6 to trail Alonso in P4. That particular order, Vettel-Webber-Alonso-Hamilton, lasted through most of the race.
Close to the end of the race, due to Webber's "wonky" (a technical term!) KERS, Alonso saw the opportunity and went in for the kill at Lap 48 of the 60-Lap race. Alonso had sights on Vettel but it was too little too late, and the same story goes for Hamilton as well. Hamilton finally pitted at Lap 33, which is both amazing in that the tyres lasted that long and potentially flawed in that had Hamilton pitted a few laps sooner, he may have been able to overtake Webber at the closing laps of the race. Hamilton was 1 or 2 laps away from taking P3 away from Webber but ultimately couldn't get the job done.
If I had to pick a few themes that are consistent throughout this season, one of them has got to be Schumacher's horrible luck. Schumacher had incidents at almost every race, and unfortunately it was no different at the Indian GP. Schumacher's tyres were punctured at the start of the race due to contact with Vergne. Can Schumacher not get any breaks?
There's always a chance you see something new at every race, for the Indian GP, Hamilton switched out his steering wheel during his 3.3 sec pit stop. Did anyone catch that as well? I wonder if that's part of the pit stop practice drill.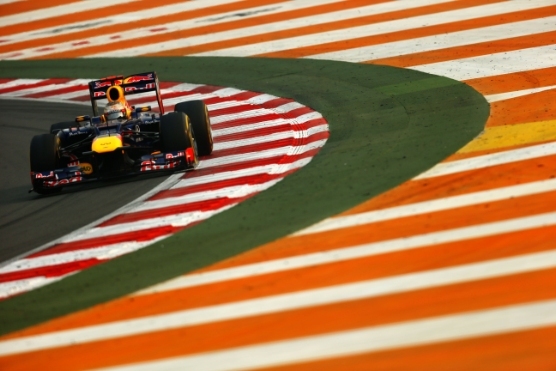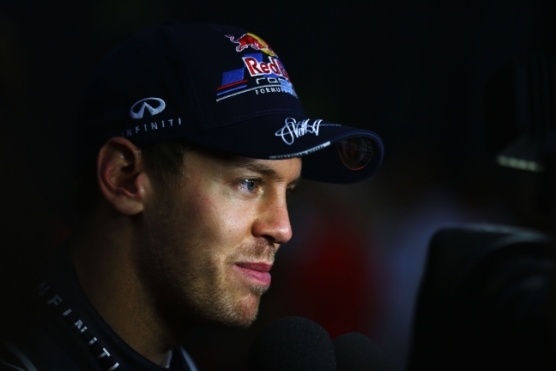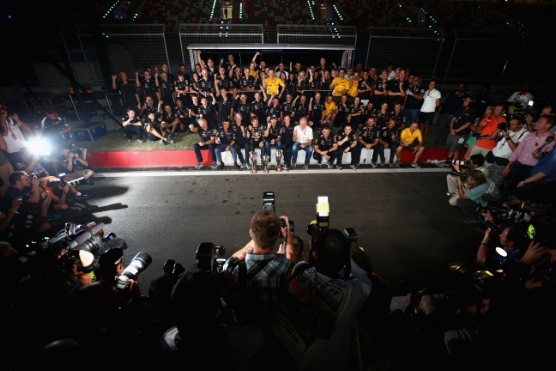 Even though it looks like a sure thing that Vettel will win the WDC 2012 judging from his repeating wins, Alonso made it clear that it ain't over until it's over. I leave you with Alonso's fierce tweet after the Indian GP:
If breaks the sword, fight with your hands. If they cut your hands, push the enemy with your shoulders even with your teeth #samurai #IndiaAlo
With these fighting words, I cannot wait to see the rest of the fight at the Abu Dhabi Grand Prix on 11/2-11/4.