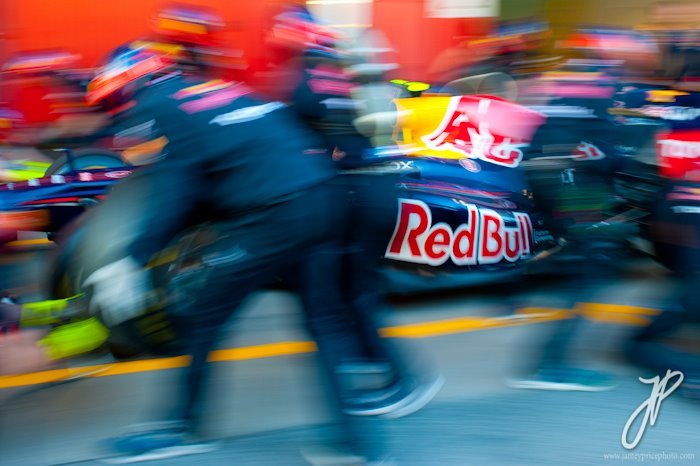 Feb 21, 2012


After a long travel day Sunday and Monday, I finally arrived in the sleepy town of Montmeló which lies just north of Barcelona. With the sound of
Fleetwood Mac's "The Chain"
playing in my dreams, I woke bright and early to pick up media credentials and get to the press centre Tuesday morning.
Mercedes launched it's 2012 contender close to 830a. Dubbed the W03, which like most of its competitors has the unique 2012 spec "broken nose" look. Despite early hesitations, they don't look as bad in real life. And thankfully the cars still sound tremendous.


After the Mercedes launch, where Michael and Nico arrived in the new AMG Mercedes, I headed to the end of the pitlane to shoot pit exit photos.


Now, contrary to what you may have ever read on other F1 blogs, the business of F1 photography is neither cushy nor easy. Though being a diehard F1 fan myself, it is a long hard days work with nearly no break and no food or drink and as I write this, I'm completely exhausted. If you're doing your job right, you simply won't have time for anything but picture making. I walked the inside and outside perimeter of the track twice today looking for photo spots I found pleasing and engaging to viewers, and as always, looking for the best light and maybe something unique.


The 2012 spec cars, though unique looking, are still very much F1 cars. It is still and incredible sight and sound to see a modern F1 car power away from the pitlane. One moment they sit in front of you a roaring machine ready to release its energy. The next, it's several hundred yards away and seeming only got there in the bling of an eye. It's something that photos not video can properly convey. You'll simply have to experience it for yourself in Austin this November.


My day wrapped up shooting the cars coming into the last 3 turns. The light was stunning and I seemed to be the only photographer in sight. I have no idea why. Following the last session of the day, I joined the World champions for a few minutes of pitstop practice before retuning to the media centre to upload the last batch of photos from the day.


Tomorrow's challenge will be doing something different than today. I don't like seeing myself take the same images but I have a few tricks of my sleeve. Well see if it works.