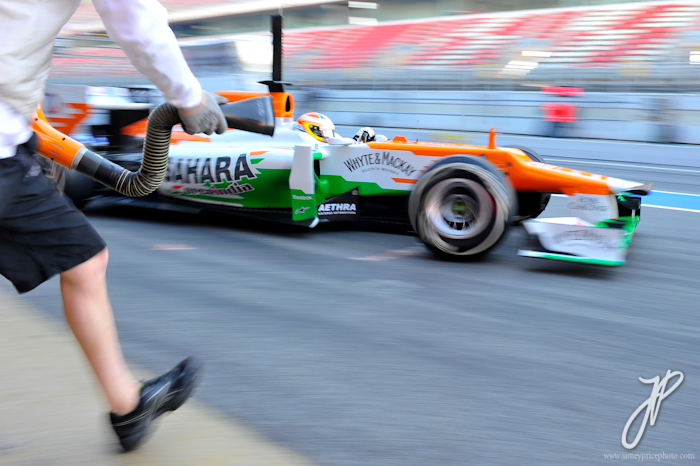 //The following is a featured article from guest contributor Jamey Price, Jamey Price Photography, an American sports photojournalist on his first Formula 1 project. You can read more about Jamey and his passion for his work in our feature: Intro to an American F1 Photojournalist - Jamey Price.
February 23, 2012
Another day of testing gone and we've learned a lot about the cars. The Red Bull, as expected is strong. But I'm not telling you that looking at timing sheets. In fact, out on track, all I have is my eyes. I have no connection to the outside world whatsoever. Not that I could hear anything even if I did.
I'm telling you the Red Bull is fast and that Adrian Newey has designed another stunning machine by watching it. I've walked this track 10 times over and I've seen it go through all of the corners and in every single one, it is planted. Rock solid. Steady. Fast. It just looks fast.
Ferrari on the other hand are not. And again, not looking at timing sheets or listening to what Alonso and Massa are saying in interviews. I know it's going to be a long first few races for the Scuderia because the car is unruly. It is out of balance and looks more interested in trying to kill the driver than win him races.
But as everyone at tests say, who really knows? I certainly don't. But thats the beauty of winter testing. You can play your mega hand close to your chest and tell no one how strong you are if you really wanted to.
It's been a fascinating experience being in the pit lane and on track and I look forward to sharing the final days images with you tomorrow.