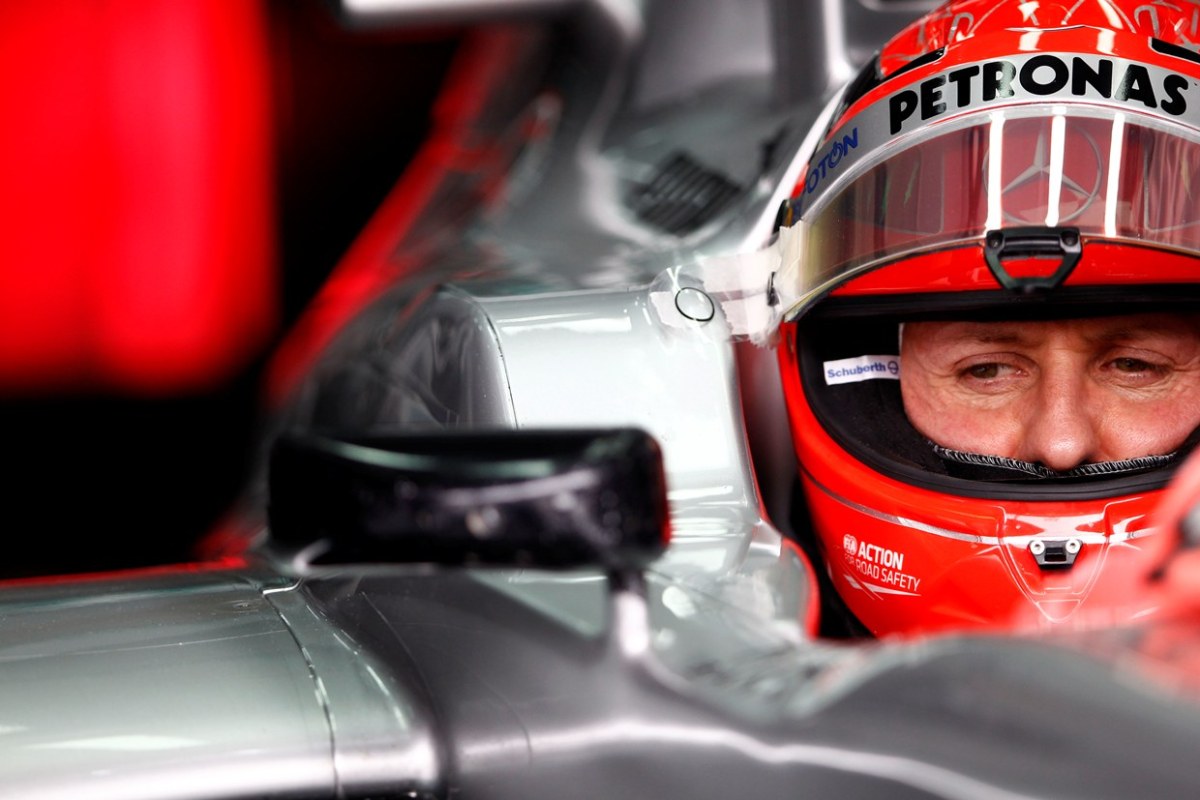 If there's a consistently insisted, single line of criticism of Formula 1 leveled by fans of other racing series or sports, it's that F1 is all about the technology and the strategy, but the driver is essentially an afterthought; it lacks the human component that drives so much of the drama in NASCAR… It's racing for nerds. That assumption illustrates probably the largest single hurdle the sport faces in coming back to America.
In 2004, Michael Schumacher won the last of his record seven world championship titles in F1. Schumacher holds more F1 records than any other driver, from wins (91), to wins at a single circuit (five at Monza), to pole positions starts (68). His lifetime win percentage is a staggering 31 percent. Yet, at the height of his reign, the criticism of him, his Ferrari team, its boss Ross Brawn, and the FIA were at fever pitch. The "Red Parade" was ruining the sport, according to fans and critics. Imagine Sebastian Vettel's ludicrously dominant 2011 season lasting for five consecutive years.
Schumacher already had something of a bad reputation going into his five season championship streak, thanks to a race ending but championship deciding crash with Damon Hill in 1994, and a similar incident in 1997 with Jacques Villeneuve that resulted in him being the only driver in the history of F1 to be disqualified from an entire season due to dangerous driving. Many fans and members of the press, including the legendary Gordon Murray, still have not forgiven him for actions that in other racing series would likely qualify him as the most entertaining driver, like, for example, Dale "The Intimidator" Earnhardt. For hardcore fans, Michael's reign was stultifying, but F1 has never experienced such a surge in global interest as the years when he and his Ferrari were unbeatable. Even in America, by the way, with both Tiger Woods and Michael Jordan publicly and repeatedly expressing their admiration for him.
Regardless of the frenzy, Michael won, frequently and repeatedly, by simply outdriving everyone else, including his Ferrari teammate Rubens Barrichello. The point is, that just as in any other racing series, the driver matters. In fact, the driver is key. Coming to that conclusion could be as simple as looking at the final standings for any given season. In 2011 for example, Sebastian Vettel won the championship by a colossal margin, while teammate Mark Webber, ostensibly driving identical Red Bull RB7 chassis, finished in a distant third, with McLaren's Jenson Button, who was the 2009 world champion, in second. Button's teammate, Lewis Hamilton, who was the 2008 world champ, finished fifth, behind Fernando Alonso of Ferrari. Alonso's teammate, Felipe Massa, possibly suffering from Steve Blass Disease after almost being killed by an errant suspension component during qualifying for the 2009 Turkish Hungarian Grand Prix, came in sixth, but 109 points behind Hamilton. If, as some contend, the driver doesn't matter, or at least doesn't matter as much as the car, the team and the race strategy, then why the disparity?
Formula 1 drivers are physically fairly uniform creatures. They are lean, they are fit, they are as highly tuned as the machines they pilot, and to a degree they're fairly interchangeable. But so are most athletes. Mid-season trades don't throw a baseball team into chaos. Usually. The players adapt to the new teammates, the new roles, and they continue to do what they've trained to do. Most professional athletes are also genetically dispossessed of a certain sense of self-preservation. Think about Pete Rose leveling Ray Fosse at the plate in the 1970 All-Star game. No rational person would even think about attempting that. Professional athletes are programmed to compete and to win regardless of risk.
You do have to accept the fact there are F1 teams that aren't as well funded as others, and therefore don't have cars that are as advanced, or mechanics that are as experienced, or drivers that are as mentally and physiologically perfected. Also accept that the heavy hitters like Ferrari, McLaren, Mercedes and Red Bull, will absorb as much talent (not necessarily drivers, but designers and engineers) as is available simply due to their ability to pay for it, leaving the backmarker teams to fight over "scraps". It's the same as with the New York Yankees, simultaneously the most successful and most hated team in all of professional sports (at least in the States). Most true fans despise those unsavory aspects of the business of sports, and the governing bodies do what they can to level the playing field, but what can you do? You accept it and root for the underdog, in most cases.
So the assumption now has something of a premise… Do the underlying principles of business that make a sport like F1 possible denigrate the role of driver?
That brings us back to Schumacher during the Ferrari years, aka the Yankees of F1. But what if he'd been stuck in a wheezy Pacific-Ilmor, that in '94, out of 16 races, only managed to qualify for seven between both cars, and finish none of them? He'd have lost. A lot. But would he have given up and tried his hand at touring cars, or would he have shown enough raw talent that he'd have still ended up with a winning career? The question is, can a great driver in a mediocre car can transcend the machine's limitations, and maybe even win with it? If you can honestly answer no, then you're right, the driver doesn't matter.
Except it happens all the time. And if I'm honest, that's why I am a fan. If you still hold the belief that the driver doesn't matter in F1, then you discount the accomplishments of Ayrton Senna in an otherwise hopeless Toleman in the 1984 Monaco Grand Prix, or just a few weeks ago, Fernando Alonso piloting a generally disappointing Ferrari chassis to victory at Sepang. All of the amazing come from behind victories, the perfect drives, when the driver seems to be possessed by God. Or a god.
I personally think the misconception that drivers are perfectly interchangeable, and that winning just comes down to the car, at least with regard to American racing fans, is three-fold. First and foremost, lack of familiarity with the sport means assumptions about the drivers' role come down to preconceived bias. It's just like anything else, really. If you're predisposed to like riff intensive, Zeppelin-esque rock, but cringe at high pitched, whiny lead vocals, you're going to have a hard time listening to Rush even if it's more or less your kind of music. But you can still learn to like Rush if you're a drummer, a bassist, or a Canadian. There's almost always an in. So it goes with F1 for fans of other racing series, or of sports in general. It's competitive. It has history. It's loud. It's fast. Most sports fans have an in.
Which brings us to issue number two: drivers that we as Americans can relate to. Right now, there really are none. That might soon change. Alexander Rossi, a 20-year old Californian with a solid record in several European race series, was named a test driver for Caterham this season. We'll be following Rossi as the season progresses. Time will tell if he's the next Phil Hill. The funny thing is, when you're abroad, F1 drivers are fairly ubiquitous in the public eye. Maybe not quite as famous as football stars, but more or less relative to the fame of NASCAR drivers on these shores. Fernando Alonso's face is plastered on everything from ice cream to buses in Spain, and Jenson Button sells you Head & Shoulders in France.
Which is really a segue to the third point. Drivers are celebrities in most parts of the world. They're endorsing products, speaking about "habits of a winner" to youth conventions, appearing in cameos on television, or being interviewed on a morning chat show. You recognize them, you know something about them, and to some degree you're invested in their success based on their personalities or their personal lives. That's the basis for celebrity anywhere you go in the world.
Unfortunately for American audiences, we don't have passive access to the drivers. If you want to know about Mark Webber, you have to actively seek out that information. At that point, it's something of a chicken or the egg scenario, where you need to be a fan of the racing to discover which drivers you most connect with, but you probably won't become a fan unless you're able to somehow connect with the people competing.
So here's a bold hypothesis, even if it's not that original - if Formula 1 racing is going to be successful in America, then Formula 1 needs to find ways to create access to the drivers. The driver is once again the key. Speed Network's Seat Swap was and is always a stellar way to demonstrate the differences between two very different forms of racing and the machines, but also the similarities, particularly with regard to the drivers. Tony Stewart and Lewis Hamilton trading rides, trading barbs, and hanging out? Why can't we do this every week? And I don't for a second believe that F1's European roots hobble it for American audiences. If that's the case, then how do you explain Top Gear?
Americans need somebody to root for. This is undoubtedly a reason Caterham picked Rossi as a test driver (which is also a way of saying reserve driver who can be subbed in or even take over for a faltering Heikki Kovalainen or Vitaly Petrov), and why we might begin to see other teams signing young American drivers. To be fair, it's going to be a tough sell for a young, talented driver with a professional manager who wants to actually make money to sidestep NASCAR and its many feeder series in favor of politically and financially volatile Formula 1. It's going to require a driver with mammoth talent, patience, and the devil may care sense of competitive adventure of drivers like Dan Gurney to succeed in what was and will likely remain a Europe-centric sport. But where one leads, hopefully others will follow.
Racing has been a part of human society ever since man first jumped onto the back of a shaggy goat and goaded Grog to catch him. Grog slow like sloth. Formula 1 likes to sell itself as the pinnacle of motor racing, but in reality, it's racing like any other. If you can get over your bias regarding its innate European-ness or its lack of "rubbing", or even just be willing to put it aside in favor of everything you love about racing or competition in general, then just like Rush's Moving Pictures, you can learn to say F1 rocks.
And in case I lost you along the way, yes, the driver matters. Not just to victory, but the overall success of the sport.